Vertik-Al

Grey dominates Vertik Al top 10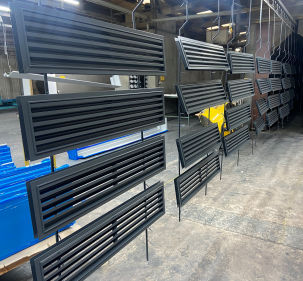 The latest powder usage figures from Vertik-Al reveal that shades of grey dominated its powder coating lines in the 11 months to April 2020. Of the top 10 colours most used, five were a tonal variation of grey, with Anthracite Grey leading the charge with almost 20% share.
In fact, the powder coater's top 10 comprises only neutral tones, with the five remaining colours a variation on this theme - Jet Black, Signal Black, Heritage Black, HIPCA White and Pure White.
Vertik-Al director, John Park-Davies believes that this neutral dominance is down to their versatility; providing a blank canvas. "For many years white has been the principal finish for window and door products, while black and a uniform grey accounted for the majority of roofline products.
"As tastes and trends have evolved, designers and homeowners have embraced the entire neutral colour palette, seeking hues that don't compete with other colours but can easily be layered with stronger tones, both inside and out. Our powder usage is proof of this, with greys and blacks prevailing."
Vertik-Al also crunched the numbers on finish usage and matt dominates at 83.91%, followed by satin, gloss and then finally, metallic.
In combining colour and finish, variations of grey in a matt finish obliterate the competition with 20 entries in Vertik-Al's top 50. In fact, Anthracite Grey is the only grey to feature in both a matt and satin finish.
The powder usage data has also supported a rising interest in bolder, more extraordinary colour and finish combinations. Anodic Pewter, White Aluminium and Gold Metallic all rank in the top 50, featuring in metallic finishes.
Vertik-Al generally uses around 400 colours regularly and can access over 3500. By working with global powder companies, including AkzoNobel, Synthapulvin, Axalta, IGP etc. the company can respond to the most elaborate of requests, coating aluminium to complement all manner of products, and architectural styles and features.
The company offers 25-year supplier backed guarantees on a range of colours.
Vertik-Al is the only applicator in the UK and Ireland to hold the GSB International quality seal for Approved Coated Aluminium and is one of a handful of applicators to boast membership of the product certification scheme, QUALICOAT.
To discover how your business can benefit from Vertik-Al's colour expertise, investment and over 50 years' experience in powder coating, visit www.vertik-al.com.