Endurance Doors
Endurance introduce a new ERA of forged hardware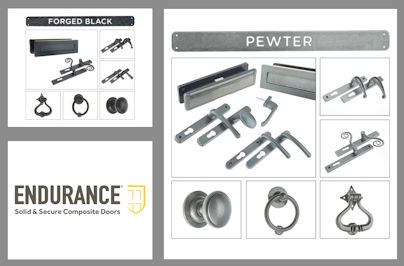 The product development programme at Endurance Doors continues at a pace with the launch of a new range of forged Fab & Fix hardware from ERA, in the form of Pewter and Forged Black door furniture
These exciting new finishes and designs include Monkey Tail, Regal and Noble door handles, Spire and Bull Ring door knockers, decorative door knob and matching letter plates, all under the Fab & Fix brand with the patented Hardex finish, which is backed by a comprehensive 10-year warranty.
Given the number of colours and finishes on an Endurance door, along with a huge range of styles, this new door furniture range will add the perfect finishing touch to any door, where consumers want to enjoy the luxury appeal of Pewter and Forged Black furniture. Given average selling prices for composite doors are on the up, it's also an opportunity for installers to offer a bespoke composite door with true heritage and architectural appeal.
Stephen Nadin, Managing Director of Endurance Doors commented: 'We're always eager to launch new products and with a robust product development programme in place, we're also looking to add value to our proposition. This means that we can support our trade customers with a point of differentiation and the promise of an exceptional, solid and secure composite door.
He continued: 'Not only do our doors look exceptional, but they perform incredibly well, thanks to a number of unique product features including our Moisture Barrier System and wet glazing process. It's also part of the reason why so many companies are making the switch to Endurance.'