Aperture Group
Introducing Perfection with Portium from Aperture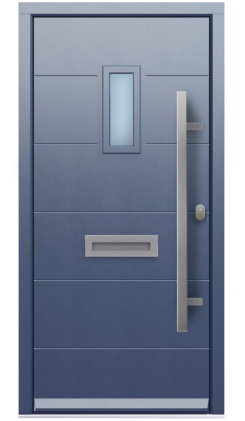 As the ever-more discerning consumer continues to demand more from their doors, the Aperture Group is stepping up to the mark with the launch of Portium, a premium 68mm timber door, engineered for added security and increased thermal efficiency.
Robin Baker, MD of the core Aperture business explains: "Our new product development team have been busier than ever working to well-defined objectives in order to deliver precisely what our customers need. Hot on the heels of our announcement about significantly extending our popular Warmcore range, the residential door market is the next to benefit with this latest product launch.
"The Portium 68mm timber high-end door contains a double steel bar to ensure it is safe, secure and future proof. It comes with marine grade stainless steel hardware for optimum performance and the Winkhaus AV3 slam/shut lock as standard, with PAS 24 for additional security. The hardwood timber-clad aluminium outerframe offers unrivalled strength and is triple sealed to improve weather-tightness and reduce heat loss.
"Portium really is an exquisite door in both looks and performance. It comes in a wide range of style options to cater for contemporary and traditional finishes and everything in between. Also available in a wide variety of colour options and with the ability to upgrade hardware and glazing from the already premium specification offered as standard, we genuinely believe the Portium door is set to up the ante in the premium sector of the residential door market.
"We have set out our stall at Aperture to operate with customers at our heart and the Portium door is an excellent example of our commitment to this promise. It's a product that is guaranteed to give our customers a competitive edge and we look forward to working closely with our customers to deliver this high-end door to end-users in search of genuine quality."