Swisspacer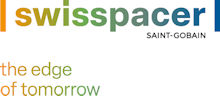 SWISSPACER UK introduces premium solutions for glass
London Build show, at Olympia London 27-28 November,stand C30
Leading warm edge spacer bar supplier SWISSPACER is developing its range of solutions for glass in the UK with the addition of the exclusive La Pensilina premium glass canopy. This – alongside new fittings and systems for glass balustrades - will be available from SWISSPACER UK later this year.
La Pensilina is a cantilever, load-bearing glass canopy system, which is designed for outdoor use and can be installed above entrance doors or sliding and folding patio doors. The design is stylish and minimalist, and the lack of visible screws gives the canopy a 'floating' effect. At the same time, the continuous aluminium profile provides the strength to hold a distributed load of up to 350 kg/m2 without breaking. No rods or glass cut-outs are required, and La Pensilina is also the first canopy system without glass holes to hold an ETA (European Technical Assessment) document.
The innovative new products are made by Logli Massimo, part of the Saint-Gobain group, following its acquisition of the Italian manufacturer in March 2018. Logli Massimo specialises in high performing systems and accessories for the fixing and assembly of glass panels. The quality of its products is demonstrated by the substantial testing it undertakes at a laboratory built in partnership with the School of Engineering at the University of Florence.
Andreas Geith, Managing Director of SWISSPACER, comments: "Our brand of premium warm edge spacers is a UK market leader with a reputation for great looks, innovation and high performance. Logli Massimo's range complements SWISSPACER perfectly and is part of a longer-term strategy to extend our range of premium products in the UK."
John Cooper, Commercial Director of SWISSPACER UK & Ireland, adds: "We're very excited to be able to introduce Logli Massimo products to support our new direction and focus in the UK. Our warm edge spacers are known for outstanding performance and aesthetic appearance and it's a great opportunity to add to our range and offer customers a growing choice of innovative solutions for glass."
SWISSPACER UK will be at the London Build show, held at Olympia London between 27-28 November, where La Pensilina and the new balustrade system will be on display at stand C30.