Residence Collection
Residence is backing panel door performance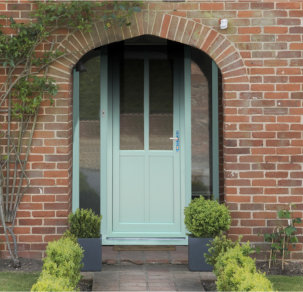 With the launch of Residence Doors at the FIT Show and true to form, The Residence Collection are embracing bespoke and hand-crafted entrance door manufacturing by using existing sash and bead profiles, coupled with a performance door panel in either 28 or 44mm.
This means that existing manufacturers of The Residence Collection can seamlessly move in to the entrance door market with the considerable options of R2, R7 and R9 frames and the common sashes, mullions and glazing beads across the range. The manufacturing techniques are not too dissimilar to the way in which timber doors are manufactured, with the added benefit of the larger, smaller, wider or slimmer sizes that composite doors cannot accommodate.
From an overall design perspective, the panels can be sourced in foils or sprayed to match the sashes and frames, with spraying opening up all the design trend colours such as Farrow & Ball. Given the nature of The Residence Collection, both period inspired doors and more contemporary options can be manufactured, along with everything else in between.
The structural strength of the profiles within The Residence Collection and the nature of this type of door manufacturing means that the performance of these beautiful hand-crafted doors is impressive, without the worrying issues of bowing and warping that's currently an issue with some composite doors.
Sarah Hitchings, sales and marketing director of The Residence Collection commented: 'Our customers now have the opportunity to manufacture entrance doors with existing profiles, coupled with high performance panels. It's also a manufacturing philosophy that's true to the heritage of The Residence Collection.
She continued: 'We now have a product platform that will enable us to penetrate the door market as a whole, through our customers and backed by our wondrous brand.'