Swisspacer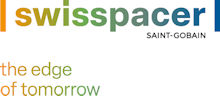 UK first for HiTECH blinds and SWISSPACER
HiTECH Blinds Ltd, established in 2016, was set up to offer a reliable, competitive quality integrated blind system to retail and trade customers. The company uses a bespoke system, exclusive to Hitech in the UK. Its latest product, the HiTECH TRL 90 rooflight system, which incorporates SWISSPACER's 32mm spacer bar, will launch at the FIT Show 2019 in May. It's the first time a rooflight with integral blind has been offered in the UK – and SWISSPACER is an essential component.
Ian Woolley, Sales Director at HiTECH, explains: "We offer a high-end solution with specially coated glass in our rooflights, so it's important the movement of the blind inside the glazing does not compromise the finish. SWISSPACER's 32mm spacer bar gives us plenty of room inside the sealed unit, as the pleated blinds are 20mm when folded. But we don't just use SWISSPACER because it is the right size – it also has all the benefits of energy-saving warm edge technology with the rigidity of a traditional metal spacer to hold the blind system in place. SWISSPACER's staff are helpful, knowledgeable and trustworthy, and they share our commitment to choice, value and quality; it's a perfect match."
HiTECH offers a choice of 9 colours for its blinds, while SWISSPACER 32mm spacer bars are available in 17 colours, so customers can tailor their selection to taste.
SWISSPACER's reputation as the UK's most trusted warm edge spacer was a major factor in HiTECH's choice. Ian comments: "Our new partnership with SWISSPACER reassures our customer base that the first integrated blind rooflight in the UK has the most popular warm edge spacer, coupled with the best service."
For more information on HiTECH Blinds Ltd, visit www.hitechblinds.co.uk or email info@hitechblinds.co.uk. For more details on SWISSPACER please see below.