The Georgian Bar Company Ltd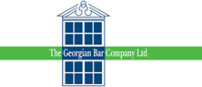 A decade of dapper
Philip Dewhurst Jr, Commercial Director for The Georgian Bar Company, is celebrating an impressive 10 years since first joining the firm – not bad for something that began as a stop gap position to help out his Dad, Phil Sr, after selling his publishing business!
"I grew up around this industry," says Phil Jr. "But while it wasn't a new world to me, it wasn't something I particularly thought I would enter into. However, Dad had a plan that would need the both of us and it was nice to think I could be instrumental in building on the work he had already started with Geofast."
Since then, the father and son duo have continued to grow the business into an impressive multi-national company. Philip puts the success down to the combination of his sales and marketing skills and his Dad's technical know-how.
"We make a great team. We complement each other's skillset and there is a tremendous trust from working with family. It wouldn't be half as interesting doing any of this without each other."
To achieve the growth for Georgian Bar, the pair have worked together to create more than 600 product options, in a huge number of colours and styles, to fit with nearly all PVCu windows manufactured in the UK.
Anyone who knows Phil Jr will certainly attest to his generous nature, his enthusiasm of networking with the industry and helping others to form business relationships.
"This industry is immensely social. I remember very early on being invited to the Glass Times Race day and the people were so welcoming. Some of the first people I chatted to on that day have turned into friendships that have continued over the last decade.
"From then at the plethora of industry events, from PIGs to the Madi Ball Rallies and fantastic fundraising events, I can certainly say I love the people in this industry, and I have learned so much from all of them. There are too many to name names – you know who you all are!"