ERC Testing Ltd.
ERC Testing Supports Emergency Services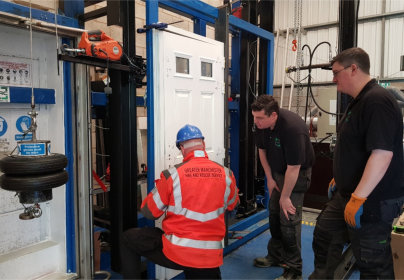 ERC Testing, the Leigh based test house providing testing services to companies within the flat glass, window and door industries, recently welcomed members of the Greater Manchester Police Force and the Greater Manchester Fire and Rescue Service to the Laboratory, to provide assistance with their Method of Entry Training.
Mike Hackett, Laboratory Manager at ERC Testing explains: "Working with door hardware on a daily basis, trying to force and manipulate it in order to put it through testing procedures, gives us in-depth knowledge of its strengths and weaknesses. We've been using some innovative techniques to challenge the hardware and thought that, with fire safety top of the public agenda at present, we would contact our local fire and police stations in Leigh to offer to share our knowledge on the latest door lock manipulation techniques. This offer was well received and we were pleased to welcome Method of Entry Training Instructors from both Greater Manchester Police Force and Greater Manchester Fire and Rescue Service to the Lab, where we went through some examples of lock manipulation. The feedback we received suggested the information we shared with them was useful.
"The fenestration industry's focus on hardware is mainly to deter the opportunist burglar, which means the time taken to manipulate the lock is critical. This is also true for the Emergency Services which is why we decided to contact them."
Bill Keating, Managing Director of ERC Testing concludes: "We are always trying to think outside of the box to improve industry standards and improve safe practices across the board. It's a big responsibility to make sure a product is fit for purpose and protects homeowners in the way they think they'll be protected, but equally, as our industry have made locks better and better, there is also a responsibility to allow the right people to gain access under any circumstances, namely the emergency services. We hope that identifying this opportunity to extend our services to our local emergency services it will prove to be of benefit to our local community."
For more information on ERC Testing Ltd log on to www.erc-testing.com or call 01942 603927.