Atlas Glazed Roof Solutions
Atlas unveils new generation lantern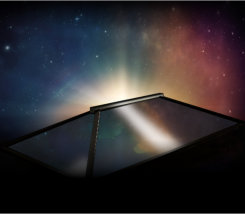 Industry pioneer Atlas Glazed Roof Solutions has pushed the boundaries in lantern design once again with the unveiling of a next generation glazed roof lantern. The Lantern 2.0 is the slimmest, lightest, finest looking and most energy efficient lantern that Atlas has ever created and the market has ever seen.
Developed to deliver everything the homeowner and installer want in a roof lantern, the fitter-friendly lantern is the slimmest non-bonded roof in the industry. And Atlas has improved on all of its features to make it the best lantern available on the market today.
Taking aesthetics and performance to a new level, the lantern features a fully aluminium, thermally broken ringbeam, which has been reduced in size by 55% to make it even lighter, better looking and more thermally efficient than before. The new lantern also incorporates a refined ridge topcap, which is 25% thinner than before, to achieve incredibly slim sightlines when viewed from below. The height of the ridge top cap has also been trimmed by nearly 50%, making it much less obtrusive because the lantern sits much lower than bulkier alternative systems from the outside.
Gareth Thomas, sales and marketing director at Atlas Glazed Roof Solutions, said: "This lantern is the dawn of a new era for our industry and we're really proud to launch what is a truly exciting advance in lantern design. We've put our passion, expertise and agility into developing our new lantern – this piece of engineering excellence has all the characteristics you expect of an Atlas roof, but it's even better.
"Delivering on all fronts, it's a new breed of lantern that's a league ahead of everything else out there and we know that homeowners and installers will be hankering for it. You could say the best just got better!"
As well as introducing a host of advances to improve the appearance and performance of the lantern, Atlas has also ensured that it simplifies the installation process for the fitter. The new ringbeam is now in one piece to do away with on-site assembly and make for a quicker and more straightforward installation. The ringbeam is simpler to drill to the kerb and it comes with fewer components to ease fitting further. And, because the lantern is a 'dry fit' system, which only requires silicone to seal the lantern at the kerb, it is neater, quicker and easier to fit than ever before.
"These enhancements were all about simplifying the installation for the fitter," Gareth adds. "Many installers shied away from projects with lanterns before, because they saw them as complicated, specialist jobs that needed to be subcontracted to expert fitters. This new lantern has been designed with the fitter in mind and it opens up terrific opportunities for firms that don't have experience in lanterns to widen their offering and make the most of the growth of the flat roof extension market."
The Lantern 2.0 is perfectly proportioned with the internal ridge, transom rafters and hips the same 40mm width and appearance for a streamlined look. Unlike some alternative systems, there are no boss or hoods to intrude on the roof's slim-line ridge. It is also one of the strongest glazed roofing systems available and, despite its extensive glazing, it delivers outstanding thermal performance. The ridge and rafters feature a thermal break to prevent cold air from penetrating to the inside of the rafter. The rafter is more thermally efficient than its nearest rival and can achieve a U-value of up to 0.9 W/m2k with triple glazing.
For further information, please contact below