Viiu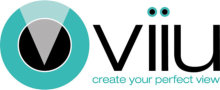 New Viiu showroom to help Key Dealers convert
As its popularity builds, and its Key Dealer Network spreads around the country, ultra-slim sliding door brand Viiu has opened an impressive new showroom to showcase its stunning products.
Located in Theale, West Berkshire, just a few miles outside of Reading, the facility is a valuable resource for Viiu customers, who can use it to demonstrate the striking doors to end-users and architects alike.
Viiu (pronounced 'view') offers ultra-slim sightlines, secure laminated glass throughout and an ingenious, unobtrusive design. With the outer-frame entirely built into the façade, it gives the appearance of a wall of glass, strong enough to support moving glass sections of up to 750kg, and fixed glass sections up to 1200kg.
For added security, and to maximise the amount of transparent space, Viiu's unique electric locking mechanism is cleverly concealed in the head of the outer frame. A patented adjustable interlock section allows perfect alignment to maximise performance and aesthetics.
A motorised option is available – and its drive gear is discreetly housed in the unit's 100m head profile, which itself is hidden behind the building's façade.
Viiu is also the only product of its type to achieve PAS24-2016 standard.
"The new showroom is just another fantastic tool we offer our Key Dealers to help them show homeowners and architects just how good the Viiu door is," comments Sales Director Rod Tate.
"Pictures and technical drawings are one thing, but seeing the huge sizes and easy operation that Viiu can offer in person is something else entirely. Viiu has to be seen to be believed, and we're confident our showroom will help our clients make conversions and grow their businesses.
"If you'd like to learn more about Viiu, get in touch today!"