CMS Enviro Systems Ltd(CMS Window Systems)
CMS Window Systems doubles aluminium capacity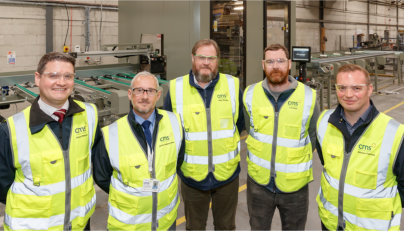 A £500,000 investment programme in next generation machinery and personnel has more than doubled CMS Window Systems' production capacity for aluminium windows, doors and curtain walling, and boosted its site installation workforce.
At the heart of this capacity-boosting investment is the commissioning of Scotland's first Emmegi Quadra L2, a state-of-the-art 18-axis CNC machining centre for milling, drilling and cutting aluminium profiles. With its automatic magazine and push feed system for profile lengths of up to 7.5m, this globally renowned technology complements CMS's existing factory set-up extremely well by providing greater speed and throughput in the factory as it automates some tasks that would previously have required manual handling.
This latest investment is part of the Queen's Award for Enterprise winning company's long-term growth strategy to deliver the highest quality products in the most competitive lead times, with first class service. Staying ahead of the curve as customer volumes increase, new technology and automation have been utilised to maximum customer advantage, as well as to maintain the safest, most sustainable working environment.
It also means that CMS Window Systems is now equipped to deliver aluminium windows, doors and curtain walling for the most diverse range of projects, including to the largest sizes possible in line with the latest trend for maximum natural light.
In addition to new machinery, the investment programme also funds an expansion to its on-site installation teams and it allows for changes to the management and supervisory structure within the aluminium factory. These personnel developments are important to help ensure products are manufactured and installed to a consistently high standard in as safe and efficient a way as possible.
David Ritchie, CEO of CMS Window Systems said: "Our latest investment in our aluminium division will help us strengthen our position at the forefront of the market, and provide solutions for a greater range of commercial, public sector and residential projects. For example, one of our first customers to benefit is the developer of a luxury residential scheme in Edinburgh, for which we have been appointed to manufacture a number of 3m x 3m aluminium sliding doors. The Quadra L2 accommodates these with ease thanks to its ability to handle greater profile sizes.
"We have excellent capacity right across our business thanks to our long term production planning, with our aluminium division expansion coming on the back of the opening of our new doors factory in Kirkcaldy, which is already producing 150 doorsets every week. The market for high quality windows, doors and curtain walling remains strong and we look forward to growing further as a result of our latest investment."
Operating from its 15-acre main manufacturing and recycling facility and HQ at Castlecary near Cumbernauld, together with its new door manufacturing and recycling plant in Kirkcaldy, Fife, CMS Window Systems is one of the UK's leading PVC and aluminium window, door and curtain walling manufacturers and installers. The company has been backed by mid-market private equity investor LDC since May 2016, when it secured a significant minority investment to further support the business' expansion across Scotland and England.