J&S Adhesives Ltd
Glass plastic metal bonding one company fits all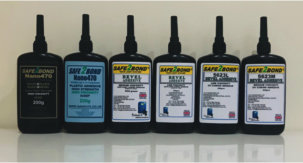 Eighteen years ago, and after five years of research, J&S Adhesives introduced its non-UV glass-bonding system, Safe2Bond, which, unlike competing products on the market at the time, didn't rely on harmful UV light as the catalyst to 'cure' the bond of bevel to glass, but used safe white light instead.
White light is the light you see and experience all around you, while UV light is something that you normally have to protect yourself against, using dark glasses, skin lotions, or protective clothing. In sunnier parts of the world, that would mean all three methods to protect outside workers who are likely to be exposed to UV.
For someone working in a busy decorative glass department bonding glass bevels to sealed units and mirrors all day long, significant exposure to UV via the UV light box, necessary for that system, held considerable long-term concerns for their health and well-being. A decorative glass worker would usually hold the bevel in place with bare hands while the light box shone UV light through the glass and onto skin and eyes.
Not a happy thought, is it?
Fortunately, Safe2Bond changed all that, and once the market was educated to the dangers of UV, the white light system for the most part successfully displaced UV.
Not resting on its laurels however, the company went on to develop an additional range of adhesives for glass furniture construction, and plastic bonding. All can be cured using Non UV curing light sources.
Nowadays, J&S Adhesives is supplier of the largest range of light curing adhesives in the UK, possibly Europe. The company supplies both UV and non-UV adhesives as some companies do still prefer to use UV adhesive with the correct PPE.
No other supplier does all this.
J & S Adhesives would be pleased to offer advice for your existing or potential new applications, and we can offer samples for testing. So for technical advice or where to purchase our products you can contact us via