Frame Fast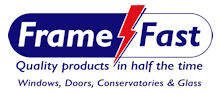 Perfect joints for flush sash windows from Frame Fast
Top Midlands fabricator, Frame Fast UK is one of the first companies to offer sash windows manufactured using Jade Engineering's new MechWeld system. "Over the last 12 months we have been testing the new machines in real factory conditions, and it's been great," says Nigel Leivers, Director at Frame Fast.
"We had been looking for a solution for our popular Modus flush sash windows, and the new Jade MechWeld Joint solution means we can weld a timber-look joint without the fixings or glue needed to make a mechanical joint."
The MechWeld machine includes tooling specially developed for the process and combines four milling machines – two for sash and two for frame joints – and a Kombiamatic two-headed welder. "The joints are stronger because we can create a welded mechanical timber joint without fixings or glue.
"Frame Fast has worked with Jade Engineering for a long time, which is why we were chosen as part of the testing programme. We are very happy with the results from our MechWeld machine," adds Nigel. "Flush sash windows are one of the top growth areas for customers looking for PVCu windows because they suit both older properties and new. We offer Eurocell Modus flush sash in a huge range of colours in grained finishes, and with the new welded external joints look like authentic timber."
Installers can discover Frame Fast's range of flush sash windows at their Midland-based trade counter in Derby and can call on 01332 344459.