Swisspacer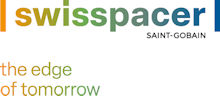 SWISSPACER processing the perfect solution for frame production
SWISSPACER now offers more and more processing options for sealed unit makers, whether manually with bending machines, or a welding robot to create frames with the highly thermally-efficient warm edge spacer bar. Bending machines, available from four manufacturers, create aesthetically pleasing corners, and the introduction of the speed-up kit to manufacture frames in under 25 seconds and Fill-it technology sets new standards for welding and filling with desiccant. So that sealed unit makers can choose the most economically attractive processing solution for their business, SWISSPACER supports customers with outstanding service, helping to select and produce the best warm edge technology.
"We offer a perfect solution for producing many types of frames with SWISSPACER spacer bars – from simple, manual production of small quantities up to automated insulating glass production on a large-scale industrial level," says Rutger van Eijk, Sales Director Europe at SWISSPACER: "This is not just about new systems, but also upgrades that can be added to existing systems."
The ROWELDO welding robot from Rottler und Rüdiger is ideal for large-scale industrialised production of large quantities with a high-quality low-sheen matt finish. The results are a secure welded join, a quality finish and frames with clean, sharp 90° corners. The ROWELDO welding robot is available in different versions: the XL version with four welding heads and the all-new speed-up kit mean that unparalleled cycle times of under 25 seconds can be achieved on the market. Another new feature is the time-saving Fill-it technology, so desiccant is inserted into the frame during the manufacturing process, and almost nothing is added to the cycle time.
For bending machines, SWISSPACER works with Lombarda, Lisec and Forel, with an entry-level version from Boza in China. "Until now, composite spacer bars have been bent with a small radius in the corners. This meant that some of the material is pressed into the corner of the frame. Now there are an increasing number of bending machines that finish the corners so they look very similar to a 90° inserted or welded corner," explains Rutger. "The fact that our spacer bars are bent while warm makes these improvements possible."
Bending machines allow for a high degree of flexibility: some bending machines already on the market from Forel and Lisec, which are used to produce metal spacer frames, can be retrofitted to include an additional SWISSPACER unit. The new systems from Lombarda have been set up to process nearly all bendable spacer bars – both cold and warm. For smaller quantities, where manual production is often a good option, SWISSPACER offers classic corner angles as well as corner angles that already have a butyl coating.
If manufacturers want to expand or automate processing, SWISSPACER can tailor its services to fit. "We highlight the various options, perform a needs analysis and process cost calculations and find the best and most economical solution with our customers," stresses Rutger. Support is available end-to-end, from commissioning on-site, technical issues with processing and after-support. He concludes: "A lot of people only look at the price per linear metre of the spacer bars. We look at the effectiveness and efficiency of the process as a whole."