Viiu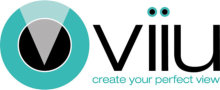 Viiu s ultra slim door slides into G18 final five
Booming ultra-slim sliding door brand Viiu is celebrating after its ground-breaking product was named a finalist for the G18 Best New Product of the Year award.
The G Awards are the glazing industry's most prestigious and longest-standing awards event, attracting hundreds of entries from businesses throughout fenestration, and counting some of Britain's most successful firms as past and present winners.
New Product of the Year is a particularly sought-after accolade – and despite coming up against some tough competition, Viiu was nevertheless singled out as one of the best.
"This is a major milestone in the development of the Viiu brand," comments Sales Director Rod Tate.
"For us, it's important the market realises that Viiu isn't just an exceptional sliding door – it's a comprehensive package designed to help installers grow their businesses.
"We arm our Key Dealers – trusted installation firms who have exclusivity in their area - with a wealth of quality point of sales material, and a showroom package that helps potential clients get up close and personal with Viiu, a fantastic way of converting leads.
"And we're currently running an intensive national advertising campaign designed to get Viiu specified in hundreds of projects up and down the country.
"If you're interested in finding out more, don't hesitate to get in touch."
Offering installers a much sought-after balance of stunning, floor-to-ceiling aesthetics and exceptional performance, Viiu is a perfect product for appealing to affluent end-users with spectacular home improvement ambitions.
Viiu can boast ultra-slim sightlines, secure laminated glass throughout and an ingenious, unobtrusive design. Viiu's outer-frame is entirely built in to the façade, giving it the appearance of an uninterrupted wall of glass.
A patented adjustable interlock section allows perfect alignment to maximise performance and aesthetics - and was robust enough to make Viiu the UK's first PAS24-2016-accredited ultra-slim sliding door.
What's more, a motorised option is also available – and its drive gear is discreetly housed in the unit's 100mm head profile, which itself is hidden behind the building's façade.