Swisspacer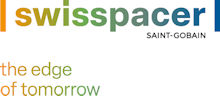 SWISSPACER bigger and better than ever at glasstec
glasstec stand F42 in hall 11, Düsseldorf Exhibition Centre, 23-26 October 2018
Allow yourself plenty of time to visit SWISSPACER at glasstec on 23-26 October - there will be lots to see! SWISSPACER's stand, F42, Hall 11 will feature SWISSPACER AIR, with demonstrations on how this innovative product regulates air pressure inside the sealed unit to prevent problems caused by changes in air pressure or altitude. There will also be sample boxes of AIR for visitors to take away.
SWISSPACER's CALUWIN energy calculating app will be on display too, set up on a giant 'iPhone' screen, so visitors can try it for themselves. Sealed unit makers, fabricators and installers will also see sample frames with ADVANCE, ULTIMATE and the Georgian Bar, its latest innovation for a traditional window.
SWISSPACER bars can be processed in a number of ways, including bending and welding machinery, or manually, and samples will be on display at the show for visitors to take away. Processing machinery options are available from Rottler and Rudiger, Lisec, Lombarda, Boza and Forel. SWISSPACER's European team will be on hand to explain the different options – and are able to make site visits for customers to discuss in further detail.