Conservatory Outlet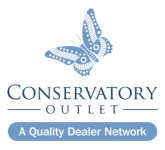 Conservatory Outlet Ltd Launches Extreme Collection
Leading UK Fabricator, Conservatory Outlet Ltd has launched its newest range of products to its exclusive network of retail partners, under the label of the 'Extreme Collection'.
The Extreme Collection encompasses the Extreme Window, Extreme Feature Door an Extreme Patio Door, each engineered to the highest specification to provide maximum performance and top end market penetration.
The new copyrighted Conservatory Outlet Extreme brand showcases five unique selling points consistent to each of the products - Extreme Security, Extreme Comfort, Extreme Style, Extreme Peace of Mind and Extreme Warranty. Under this, each product has its own set of exclusive specifications and benefits, but all include exclusivity to each of the Conservatory Outlet retail partners, and are backed by an exceptional 20 Year Guarantee, that includes genuine cover over all moving parts, as well as frames.
Conservatory Outlet retailers will be provided with enhanced sales support to launch the products including sales team training, point of sale materials that outline the unique selling points of each product, showroom marketing materials, website content and bespoke pages within their personalised brochures.
The Wakefield based manufacturer boasts a continuous reel of year-on year growth, and attributes its success in part to its innovative and growing product portfolio, along with bespoke marketing support; which enables its retail partners to source a vast assortment of products from one trusted supplier.
Business Development Director at CO, Andy Miller said: "The new Extreme Collection is the most advanced range of products we have ever bought to the Conservatory Outlet network".
"It's becoming easier and easier for homeowners to draw comparisons between competitive home improvement companies. Our Marketing Department have worked to provide CO retailers with industry leading point of sale materials for this new collection, they really are second to none and will provide the Conservatory Outlet Network partners with the tools to make them stand above any competitor".