Conservatory Outlet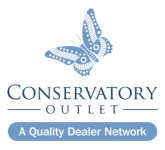 Conservatory Outlet Ltd Appoints National Sales Manager
Leading UK fabricator, Conservatory Outlet Ltd has appointed a new National Sales Manager – Jason Earl - to drive its strategic plan to achieve full UK Network coverage.
The newly created role has been introduced to support Business Development Director, Andy Miller in recruiting new retailer-installers to the Conservatory Outlet Network in untapped areas of the UK.
With a unique 'true network' model, Conservatory Outlet provides a tailored package to help each of its retail partners achieve sustainable business growth, including an exclusive trading patch, industry-leading website with multi-channel lead generation approach, showroom investment & support, innovative digital marketing tools and regular benchmarking and best practice workshops.
Recently announced as one of the top 1% of fabricators in the UK by volume, the company has achieved tremendous growth in the past five years, with turnover increasing from £8.4m in 2013 to £18.3m in 2018, with plans for further expansion over the next three years.
As National Sales Manager, Jason is challenged with securing new network members that will have real influence and impact on the network, with the same ambition to grow and innovate that the Conservatory Outlet installers share.
Having worked in sales and business development for over 20 years within the home improvement sector, Jason is well equipped for identifying and successfully signing valuable new retailers.
Jason's appointment is yet another 'string to the bow' for the company's sales and marketing team, which continues to enhance its support with graphic design, marketing planning, PR, product development, website management and lead generation to its Network of customers.
Conservatory Outlet Business Development Director, Andy Miller said "The new National Sales Manager role marks an exciting milestone at Conservatory Outlet as we develop the outreach of the network further than ever before."
"Jason has great knowledge of the industry and geographic areas that have fantastic potential for the Network, along with a great understanding of the product and ability to support our existing partners. We're really privileged to welcome Jason as part of the team."