Conservatory Outlet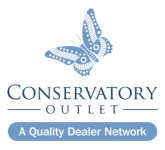 Conservatory Outlet Expands its Presence in Scotland
Aberdeen's renowned home improvement company, Bon Accord Glass, has joined the Conservatory Outlet Network of retailers. The move is part of the company's strategic plan to strengthen its position as the leading installer within the North East of Scotland.
Originally established in 1974 as a glazier, Bon Accord Glass has continued to grow over the past 40 years to become a house-hold name across the region, offering a one-stop-shop for home improvements to its customers.
The move to Conservatory Outlet as its key supplier will see Bon Accord Glass, spearheaded by Directors Martin Allan & Colin Kinghorn, now offering the extensive range of Conservatory Outlet products to an exclusive patch of approx. 230,000 chimney pots across Aberdeenshire and beyond.
Operating in the top 1% of UK Fabricators (Insight Data), Conservatory Outlet provides its network of retailers with dedicated sales and marketing support to ensure a constant supply of retail enquires for UPVC & aluminium windows, doors and living spaces. As the network's newest member, Bon Accord Glass will kick start its welcome with a brand-new website and be the first to receive its latest suite of newly-launched brochures. Also planned are an enhanced PPC and multi-channel digital campaign, a series of retail videos and significant investment & updates to the Riverside Drive showroom. Martin Allan, Director at Bon Accord Glass, explains: "We're delighted to be working with Greg, Mick and the team at Conservatory Outlet. Their network business model means we'll receive not only lead generation and marketing support, but also direct access to a wealth of knowledge and experience from the other retailers within the network, which we're certain will be invaluable to the growth and development of our business."
"We wanted a supply partner that could truly help us grow, and we believe that Conservatory Outlet is best placed to do this. We're really looking forward to seeing what the remainder of 2018 has in store."
Bon Accord Glass will now operate as the third Scottish retailer in the Conservatory Outlet Network, with its trading name and morals continuing to reflect the ancient motto of Aberdeen, 'Good will; good fellowship'.
Conservatory Outlet Managing Director Michael Giscombe, adds: "We're thrilled to welcome Bon Accord Glass to the Conservatory Outlet family. It's been clear since the start of our dealings with Martin & Colin that both our businesses have a shared set of values and a real passion for growth.
Andy Miller, Business Development Director at Conservatory Outlet concludes: "The company's experience, passion, and integrity means they're certain to be an extremely valuable asset to our network.
"We're always in pursuit of our ultimate goal for full national network coverage, and our latest union with Bon Accord Glass means we're another step closer to cementing our presence north of the Scottish border".