Glass and Glazing Federation(GGF)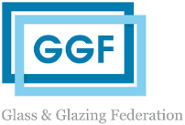 GGF launches updated Fire Resistant Glazing Guide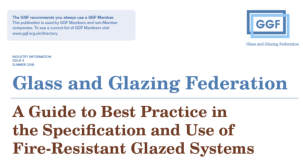 The Glass and Glazing Federation (GGF) Fire-Resistant Glazing Group (FRGG) has released a revised version of its fire-resistant glazing best practice guide, timing the launch to coincide with the GGF's presence at this year's FIREX International exhibition last week at ExCel London.
The Guide to Best Practice in the Specification and Use of Fire-Resistant Glazed Systems covers how Fire-Resistant Glazing systems are used to control the spread of fire and smoke, which allows enough time for a safe escape, as well as safe access for fire safety services.
Now in its fourth edition, the most recent revision tracks changes in legislation and incorporates updates in line with constant product development undertaken by the construction industry.
Adrian Blaydon, GGF Technical Officer and Secretary of the (FRGG) explained, "This Guide is an important document for the construction industry and offers comprehensive knowledge of Fire-Resistant Glazing. In addition, the Guide addresses the performance levels of Fire-Resistant Glazing, and how it is vital to combine the appropriate materials alongside the correct installation method to certify a Fire-Resisting performance."
The Best Practice Guide is closely associated with Approved Document B for Fire Safety (one of a series of documents that offer a route to building regulation compliance over a range of subjects) which, following the tragic incident at Grenfell Tower in 2017, is currently the focus of the glazing sector.
Fire safety has been brought to the fore in the national agenda, and the FRGG remains committed to providing the best industry guidance to protect people from fire and the effects of fire. Fire-Resistant Glazing is critical for safety because it physically separates people and valuable objects from flames, smoke, heat and other products of combustion.
Steve Rice, GGF Director of Technical Affairs added, "GGF Members and the industry have contributed to this Guide – from glass suppliers, system fabricators, certifiers and installers. It is very positive that so many are so passionate about fire safety."
Download a free PDF version of the guide here: https://www.ggf.org.uk/publications/fire-resistant-glazing or to purchase a print copy visit the GGF Shop http://shop.ggfmembers.com