Conservatory Outlet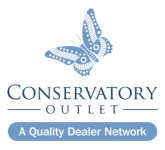 Conservatory Outlet Group Welcomes New Retail Sales Director
Conservatory Outlet Group has appointed industry-renowned sales expert Paul Clifton as Sales Director at its North-East flagship retailer, Pennine Home Improvements.
The announcement coincides with the departure of Derek McLaren, as he begins his retirement following ten very successful years.
Having spent his 30-year career firmly in the home improvement industry, Paul Clifton brings to the Group an unrivalled skill set and vast experience of retail sales. Over the past 15 years, Paul has worked as a business development consultant for a wide variety of retailers to help them improve and expand their sales performance, and is regularly invited to speak at industry events, trade shows and forums.
No stranger to Conservatory Outlet, Paul has also spent the last five years working with the national dealership network in a consultancy capacity, supporting the implementation of robust sales strategies across its 23 retailers.
Greg Kane, CEO of Conservatory Outlet Group, explains: "Derek has done a brilliant job at Pennine and whilst we thank him for his work, and wish him well on his retirement, we couldn't be happier to be bringing Paul Clifton in to the group. His reputation for retail sales development within our sector is unparalleled – this is a real coup for Conservatory Outlet!"
"His appointment is not only great news for Pennine and the Group, but also the wider Conservatory Outlet Network. Our unique business model means we can share best practice ideas and successes implemented at Pennine with our entire network of retailers. Paul will bring insight and create cutting-edge sales strategies which are designed to give the customer the best possible experience. We're thrilled to have him on board and look forward to an extremely successful trading year ahead."