Conservatory Outlet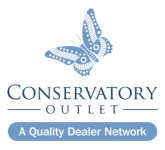 Apprenticeship Success at Conservatory Outlet
Yorkshire based fabricator Conservatory Outlet Ltd has appointed yet another ambitious apprentice in a full time permanent role.
James Owen, who began his placement at Conservatory Outlet in February 2017, whilst studying an apprenticeship in Level 2 Diploma in IT User Skills (ITQ) has now accepted the role of Quality Assistant within the businesses Quality department.
Running several valued apprenticeship schemes for local young people, Conservatory Outlet has worked alongside Wakefield College, local job centres and Wakefield Council to support local students and job seekers by providing work trial and apprentice roles within Fabricating.
Whilst completing various modules within his studies, including IT Security for Users, Improving Productivity Using IT, Database Software, Understanding the Potential of IT, Developing Personal and Team Effectiveness using IT, James has played a major part in recent efforts at Conservatory Outlet to implement the British Standard EN ISO 9001 2015, (superseding BS EN ISO 9001:2008) across the business. The adoption of which has seen the integration of a new quality management system to help streamline the business and provide exceptional quality on every product that leaves the factory. A recent Audit saw the company achieve a 100% pass rate for the transition to the BSI 2015 standard.
James began the scheme in the hope to secure full time employment and experience in Data Visualisation and Communication, with the ambition to progress to reach an ultimate career goal of becoming a Data Scientist, where he will be able to design and maintain software that others can use to capture and display data accurately across large organisations.
James commented: "Conservatory Outlet had on offer the best opportunities in order to build my career experiences. When I was first interviewed I was informed that I would be handling the company's internal and external COPQ and complying that data into an informative spreadsheet to help improve the company's departments, these were the key skills I was looking for development in."
"The apprenticeship scheme has allowed me to work full time whilst gaining a well-recognised qualification. I'd like to say a special thanks to John Olkiewicz for not only being a brilliant boss but a wonderful teacher, giving me my first high valued life opportunities within this trade, and I am looking forward to seeing what the future brings working at Conservatory Outlet."
Conservatory Outlet Managing Director, Michael Giscombe added "We're delighted to have James now with us in a full time, permanent capacity. The work he has done to help Conservatory Outlet improve our internal systems and secure 100% compliance within BSI 2015 Standard has been invaluable. James's work really sums up why apprenticeship schemes are such valued initiatives at Conservatory Outlet."
"I'd like to say a huge thank you to James for his hard work and dedication up to this point, I wish him every success in his new role and future career."