Swisspacer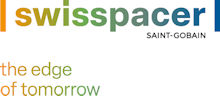 SWISSPACER expands distributor network with Delta
SWISSPACER has expanded its distribution network with Delta, a leading double-glazing parts supplier based in Romford. Serving sealed unit makers in the London and Essex area since 1995, Delta's expert knowledge and product range is helping smaller London window companies gain a competitive edge. Delta's customers were increasingly looking for excellent thermal efficiency, so it seemed like a natural choice to become an official distributor of SWISSPACER's warm edge spacer bars.
The move makes it easier for small sealed unit makers to benefit from SWISSPACER's leading range of spacer bars. Wendy Wyatt, Director at Delta says: "We're happy to be an official SWISSPACER distributor. It is a well-known name and one of the best for energy efficiency – it ticks all the boxes! Energy performance is crucial to our sealed unit maker customers and with SWISSPACER they have peace of mind that they will easily meet the required standards and regulations.
"Customers also like that they don't have to order very large quantities, as quite a lot of them, based in London, are space restricted! Due to customer demand we mainly stock the 20mm spacer bar in neutral colours."
SWISSPACER is the 'Worldwide Warm Edge Leader' with outstanding energy performance and long-lasting results. It has also recently expanded its range with two UK-specific sizes of Georgian bar, featuring a new integrated anti-rattle plug. With the widest range of colours and widths on the market, SWISSPACER is tried, tested and approved by Delta.
For more information on Delta, call 01708 764470.