Teal Products

Take control with Teal Products new multi purpose window control system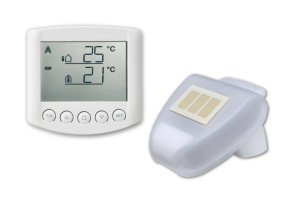 Leading specialist distributor Teal Products has once again strengthened its range of window controls, openers and actuators. Taking window automation to the next level, the Gloucestershire-firm has introduced a brand-new, highly-versatile window control system.
Combining an intelligent weather station and intuitive control panel, the new EVC control system works with Teal's full range of chain actuators to automatically open and close windows and rooflights. When triggered, the weather station's rain, wind and temperature sensors will automatically operate the actuator.
Designed for both residential and commercial applications, the system allows end users to manually override the sensors or set their own internal temperature limit using the digital display panel, or the optional wireless remote control.
"We're thrilled to add the intelligent EVC control system to our industry-leading line-up, allowing even complete novices to break into the window control market, increase the value of their installations and reach new business," comments Teal Products Director, Sam Yiend. "The new system works in partnership with the likes of our new Micro Evo chain actuator and has been designed to create an automation package that's incredibly easy to setup and install."
"Not only does the system use wireless technology to communicate between the weather station and digital display – minimising the need to work with electrics, the system comes with our 17+ years of industry knowledge and our full technical support – including our bespoke one-page instructions. We know many traditional installers have trepidations about this profitable part of the market, so we can even offer full product training if necessary to show tradespeople just how easy it truly is."
The new EVC control system completes a hat-trick of additions to Teal's product line this year alone. Along with the Micro Evo chain actuator from Mingardi, the firm has also added WindowMaster's new WMD 820 folding arm actuator. Launched in January, the WMD 820 is designed for side-hung windows and doors, providing a complete 90-degree opening in just 60 seconds.
Founded in 2000, Teal Products is one of the UK's leading suppliers and distributers of manual and electric window openers, controls and actuators. Family-owned and family-run, Teal prides itself on its extensive product range from the industry's leading brands along with its comprehensive customer service including technical assistance, training and after-sales support.