tremco illbruck Limited
illbruck takes Toolfair by storm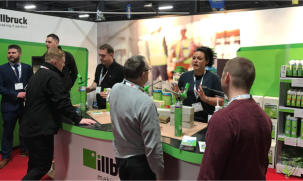 Adhesive, sealant and tape specialists illbruck went down a storm during the Manchester and Exeter legs of Toolfair, the travelling trade show for builders and tradespeople.
Hitting Event City in Trafford between the 16th and 18th of March, and Westpoint Exeter between the 19th and 20th of April, Toolfair drew thousands of builders, joiners, installers, plumbers, electricians and others from all around the country to see the very latest in tools and construction tech. At the illbruck stand, visitors could glimpse a host of cutting-edge sealant solutions – perhaps most notably, the innovative multi-use construction adhesive, PU700.
PU700 is a high-performance solution for bonding bricks and other construction materials. Capable of replacing traditional mortar, as well as serving as very high strength adhesive for wood and joinery, PU700 can offer huge time and cost savings. It would take 12 cartridges of traditional sealant to perform the same number of jobs that can be completed with one can of PU700.
What's more, the product cures quickly, allowing joints to be handled within just ten minutes of application. It cures fully within 24 hours.
"We were blown away by the response to PU700," commented illbruck Product Manager David Naylor. "Builders and installers are often sceptical about unfamiliar products at first – more traditional methods may have served them well for years, sometimes decades, and they're understandably reticent to consider any of the alternatives.
"But at the same time, they also realise that the market is getting more and more competitive. Time is money, so when they see just how quick and easy PU700 is to apply, they seriously start to consider switching.
"If you'd like to learn more about PU700, or any of the other cutting-edge adhesive, sealant or tape solutions which illbruck can offer, please don't hesitate to get in touch!"
illbruck will continue to exhibit at Toolfair this year at Harrogate (13th & 14th June), Coventry (20th & 21st September) and Sandown Park, Surrey (1st & 2nd November).