Oakland Glass
Oakland Glass Confirms Strong Start to the Year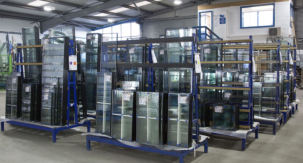 Oakland Glass, the IGU supplier dedicated to offering a wide range of sealed units alongside outstanding customer service, is pleased to announce a 15% increase in sales in 2017 and a strong start to 2018.
Managing Director of Oakland Glass, Tina Moorhouse explains where the growth is coming from in the context of a relatively flat market: "We work with a wide range of customers across the trade, new build and commercial markets and have seen growth across the board from existing customers as well as new companies switching to Oakland.
"We put a lot of this down to the range of products we supply, the investment we make into the business to ensure continuous improvement and of course the excellent service we offer. Whether customers are dealing with our sales department, customer services or our delivery drivers, they get the same high level of service. During Oakland's 32 years of trading, we've realised that this personal touch goes a long way. Fabricators, installers and specifiers need a supplier they know they can rely on and through building strong partnerships with all our customers, we can deliver precisely what they need. This not only helps existing customers grow their businesses, it also means we're an attractive supply proposition to potential customers.
"We build long lasting relationships with our customers because we offer the complete package – quality products delivered in full and on time. We recognise every customer is an individual and establish open and honest regular communication with all of them to make sure we continue to deliver what they need as their requirements inevitably change over time. We're proud of the Oakland Glass reputation and the fact we have grown the business through supporting our ambitious and forward-thinking customers. We look forward to building on these relationships even further in the future."