VBH (GB) Ltd

New greenteQ hinge for composite doors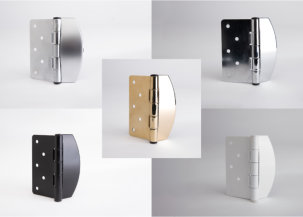 VBH (GB) has added a new composite door hinge to its greenteQ range. The new Sigma Face-Fix Composite Door Hinge comes in standard or 1D-adjustable versions and is available in five colours to match the greenteQ suite.
Adrian Gale, Timber & Composite Door Product Manager at VBH (GB) comments: "The new hinge is designed to help the installer fit a composite door quickly and safely. We've designed it so that it suits all composite doors and will actually fit directly into the frame prep of one of the leading manufacturers. The adjustable version allows for a +/- 2mm lateral adjustment on site, which makes it easy for installers to get the perfect fit."
The new hinge features a steel frame plate with five countersunk fixing points, providing a strong connection to the outer frame, and the sash component is fixed to the door with four screw fixings. Elongated fixing holes on the standard version provide flexibility in the factory or on site. Strong fixing points and a five-knuckle construction prevent the hinge from dropping once it's installed and the pre-lubricated hinge point ensures an exceptionally smooth action.
The sash component is finished with an attractive metal curved cover, which in the 1D-adjustable version allows access to the lateral adjustment screw, so the door can be quickly adjusted in-situ.
VBH's greenteQ range is a growing suite of window and door furniture, colour-matched for a seamless and integrated look. To find out more about the latest addition to the VBH greenteQ range, call 01634 263300 or visit www.vbhgb.com