Conservatory Outlet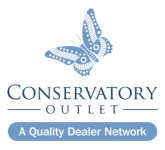 Doing the Right Thing for The Customer
Leading Yorkshire based manufacturer, Conservatory Outlet Limited has introduced a new staff reward scheme for 2018, and has awarded its first winner of the year for delivering excellent customer service throughout January.
In line with the company's newly launched vision and values, Dean Smith, Order Processor, is first to achieve this acknowledgement, which will now be awarded on a monthly basis to the staff member who best demonstrates the seven company values, including Honesty and Integrity, Growth and Innovation and Energy and Tenacity.
Dean was presented with a £50.00 gift card for his efforts in "Doing the right thing for the customer", after a review via the company's customer satisfaction survey highlighted Dean's exceptional performance and his dedication to continually offer the best service for the customers he works with.
The team at CO Network Partners, Orion Windows highlighted in the survey their delight with the service Dean has provided over recent months, scoring him and his team at an overall 10/10.
Dean celebrates his 8-year anniversary of working at Conservatory Outlet just a couple of days after receiving the award and in that time has seen many changes, not least the company's new pledge to do more to reward those employees who work hard to help the business achieve success.
Dean said "I would like to say a big thank you to all at Orion that I have worked with over the years and I am chuffed to have received this recognition for my work. I thoroughly enjoy the work that I do for our customers and I would like to wish Orion in particular all the best for the rest of this year. I look forward to providing the best possible outcomes for all our customers long into the future. As one of the very few men in the world to enjoy shopping, my gift voucher will be very much appreciated!"
Conservatory Outlet Managing Director, Michael Giscombe added "I'm delighted to be able to present this award to Dean, as a long-standing member at Conservatory Outlet he has consistently worked hard to help us achieve our goals.
The new employee awards are designed to help us say an extra thank you to staff for their hard work and dedication to the company, something that isn't always easy to achieve in busy work schedules. As a company we have grown tremendously in recent years, and a large part of this is down to the Conservatory Outlet team, it's important to us that we recognise and celebrate the employee talent that we have."