Frame Fast (UK)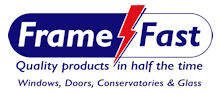 Frame Fast UK invests to support unprecedented growth in aluminium sales
Frame Fast (UK) has just reported unprecedented sales of its aluminium ranges in the past 12 months. It's a trend that's showing no signs of slowing down and the company has just invested in a new Elumatec window and door prepper and router machine in order to maintain its reputation for exceptional product quality, rapid turnaround times and customer service excellence.
Sales Director Nigel Leivers said, "Our aluminium ranges offer exceptional quality and they're proving very attractive in a market that is looking for energy efficiency and sleek good looks, something that's reflected in booming sales. Our latest investment will enable us to continue to meet demand and maintain our commitment to excellence."
The machine will allow Frame Fast (UK) to produce high quality doors and windows extremely efficiently. The machine can produce products that need machining on up to five sides and has the facility for a profile to be machined from the front, back and end with two different tools. It also has automatic clamp positioning as standard, which will save further time when changing profile lengths.
The new machine will help Frame Fast (UK) maintain its position as one of the most technically advanced trade window companies in the industry. Its purchase brings total recent investment to over £2 million and will ensure that Frame Fast (UK) stays at the cutting edge and its standards remain some of the highest in the industry.
This position is something that is very important to the Frame Fast (UK) team. Nigel concludes, "We've built our business by giving our customers the best products in terms of quality and service at all times. This investment will help us to continue to do that. Our growing sales, not only in our aluminium product range but across the board, demonstrate that this is something that people value."