Frame Fast (UK)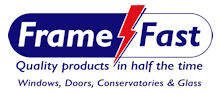 Frame Fast UK s aluminium sales reflecting buoyant market
Sales of aluminium products across the industry have increased by over 30% in the past four years and one of the companies benefiting from this surge in demand is Frame Fast (UK) Ltd. Nigel Leivers, Frame Fast's Sales Director, said, "The market in aluminium products has grown rapidly in recent years and our sales of these products are growing similarly."
It's perhaps hardly surprising that Frame Fast (UK) has seen sales of its aluminium products increase in line with market growth – the company offers the products every well-balanced and on-trend portfolio needs.
Frame Fast (UK) manufacture the Smart's range of aluminium products which includes casement and horizontal windows, bi-folding doors, sliding doors, residential doors and curtain walling. All products have the sleek aesthetics for which aluminium products are renowned and offer industry leading performance. The casement windows meet BS 6375 Part 1:2009 for weatherproofing and BS 7950:1997 for security. There are B and A rated versions and there are PAS-accredited options. The doors all feature exceptional security and a choice of hardware to create a distinctive finished look. All products meet current Building Regulations and are available in a wealth of colours, including dual colour options and woodgrain finishes. The range covers residential and commercial applications so can be a one stop shop for installers working in all market sectors.
Frame Fast (UK)'s aluminium range is manufactured in the company's technically advanced 30,000 sq ft, purpose-designed production facility in Derby, enabling the company to monitor and maintain the exceptional standards for which it is known.
As well as the quality of the products, choosing Frame Fast (UK) as a supply partner gives installers the reassurance of a company that has a reputation for excellence. The company works closely with its customers to make sure they're equipped with everything they need to grow their business, including technical support and advice when needed.
So if you're looking for an aluminium partner, Frame Fast (UK) might just be the answer you're looking for.