Frame Fast (UK)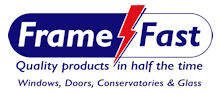 Frame Fast UK supplies over 450 modus windows for prestigious conservation area project in Derbyshire
When Frame Fast (UK) announced it would be the first company to manufacture and install Eurocell's modus® system, it predicted the system would be viewed as a game changer. It seems the company was right: it is fast becoming the system of choice for a growing number of major housebuilders.
One recent example was Wheeldon Homes' Hopton Rise project: 47 new-build homes in a conservation area of Middleton, near Wirksworth in Derbyshire. The contract was a tricky one to fulfil: not only did the appointed supplier need to be a modus® fabricator, they also needed to have the capability to supply 450 windows. What made it even trickier was Wheeldon's preference for using local suppliers where possible.
Only one company fitted the bill: Frame Fast (UK) Ltd. As the region's largest trade fabricator of PVC-U doors, windows and conservatories it had the credentials Wheeldon was looking for and was more than capable of demonstrating it could supply and fit the windows to the agreed schedule. What was also particularly relevant in this case was the use of post-consumer recycled materials in modus®. Fifty per cent of every modus® frame is made from post-consumer recycled PVC-U produced at the dedicated Eurocell recycling facility in Ilkeston which is then made into new modus® window profiles. It meant that, because the windows were fabricated in Frame Fast's 30,000 sq ft, purpose-designed production facility in Derby, fitting the windows in the Middleton properties helped Wheeldon Homes achieve an exceptionally low carbon footprint on this element of the development – a total of just 53 miles travelled.
The contract was made slightly more complicated by the location in a conservation area, which meant that planners had to agree on all external elements of the 47 properties, including the windows. The modus® flush sash window was specified because the planning authority felt that the windows offered a genuine alternative to timber, which helped to retain the traditional aesthetic integrity of the village.
"The planners had a clear vision of creating traditional-looking limestone homes and of course the windows had to complement this," said Louise Greenhoff, Quantity Surveyor at Wheeldon Homes. "Timber windows were considered, but we were conscious that these would leave homeowners with maintenance issues in the long-term."
"As soon as we presented the modus® flush sash to the planners, they agreed that it was suitable for this development," Louis continued. "The planners liked the fact that modus® retained traditional aesthetics that complemented other properties in the village."
Nigel Leivers, Sales Director at Frame Fast (UK) Ltd, said: "The modus® windows have managed to achieve a great balance between contemporary performance and traditional aesthetics. modus® is a real game changer for housebuilders looking for high performance windows with aesthetics that really help sell a property."
To find out more about the benefits of sourcing modus® windows from Frame Fast (UK) Ltd., visit: www.framefastuk.com or call: 01332 344459